Roadtrip to Yellowstone & Grand Teton
This year has been rather unsettling, to say the least. We have been staying completely isolated especially since my Mom lives with us and she falls into the high-risk category because of her age. If that wasn't bad enough the smoke blanketing Seattle from the wildfires was so bad the last couple of weeks that we couldn't even step out into our backyard. So we decided to rent an RV and hit the road. With an RV we can minimize exposure from hotels, restaurants, public bathrooms and we can bring all of our furred & feathered babies too.
3 days, 3 states, thunderstorm, hail, snow, sunshine, geysers, numerous bison, elks, and wide grins!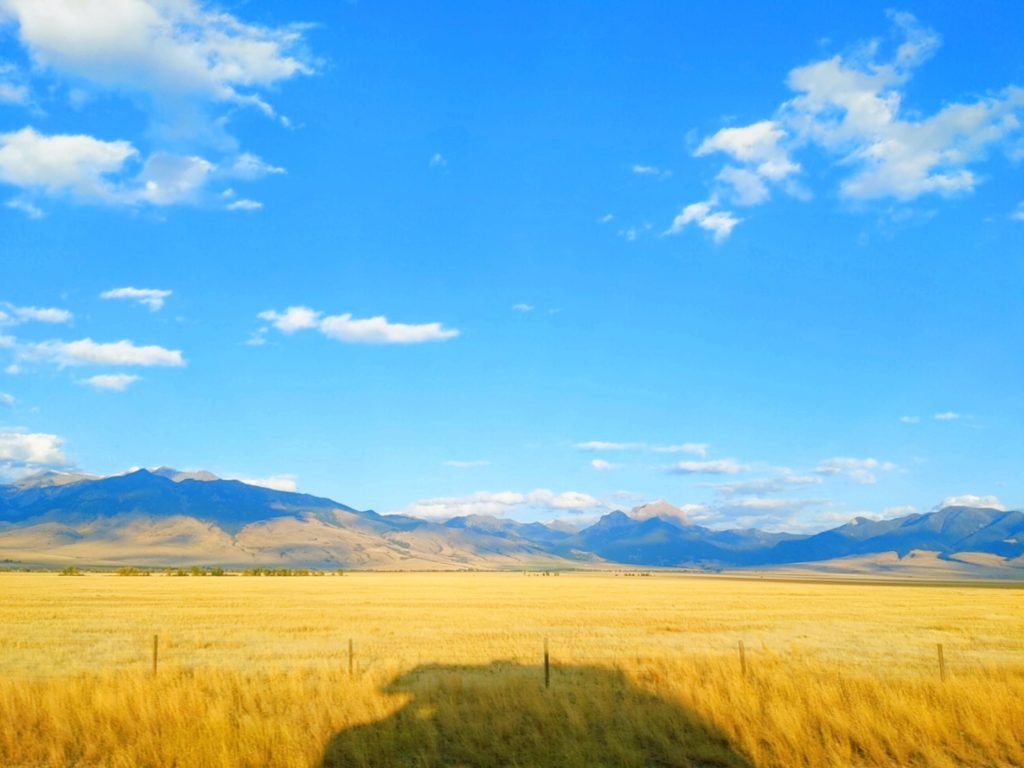 Where to rent an RV
We rented our RV from Cruise America this time but there are many other rentals out there including RVshare.com and Outdoorsy.com, which is like the Airbnb for RVs.
Make it greener
Here are a few easy measures you can take to ensure your RVing is a little greener.
Rent a smaller RV – Smaller means less fuel and energy because they are lighter and have less area to heat or cool, not to mention easier to maneuver.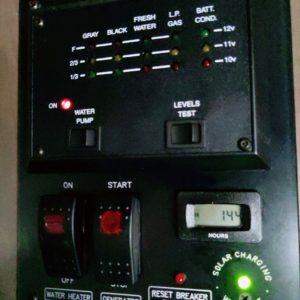 Solar Panel – Harness the power of the sun! This also has the added advantage of letting you camp in places without a traditional power grid.
Pack lightly – More things = More weight = More fuel. Buy firewood closer to your destination. Also, spread weight evenly throughout the RV.
Optimal tire pressure – According to fueleconomy.gov, "You can improve your gas mileage by 0.6% on average—up to 3% in some cases—by keeping your tires inflated to the proper pressure. Under-inflated tires can lower gas mileage by about 0.2% for every 1 psi drop in the average pressure of all tires. Properly inflated tires are safer and last longer."
Avoid disposable items – Try as much as possible to bring reusable tableware, kitchenware, reusable storage containers, and bags, etc.
Park in a shady spot – This will ensure your RV is cool and prevent gas from evaporating.
Recycle – Keep a cardboard box in the RV to collect recyclables until you find a suitable place to recycle them.
Don't top up the water tank – A gallon of water is over 8lbs (1liter = 1kilogram)! Filling 1/3 to 1/2 of the tank should be enough and you can easily refill at gas stations or campsites when necessary. You can also find free and paid water fill stations at Sanidumps.com
Empty your wastewater whenever possible – Dump out the black and grey water tanks which hold your sewage and used water whenever possible so you don't have to carry the extra weight. For a list of free and paid dump stations visit one of the following websites Sanidumps.com, Campendium.com, Rvdumps.com, or just google.
Slowdown – 55 to 60 miles per hour is the "sweet spot" for RV fuel efficiency.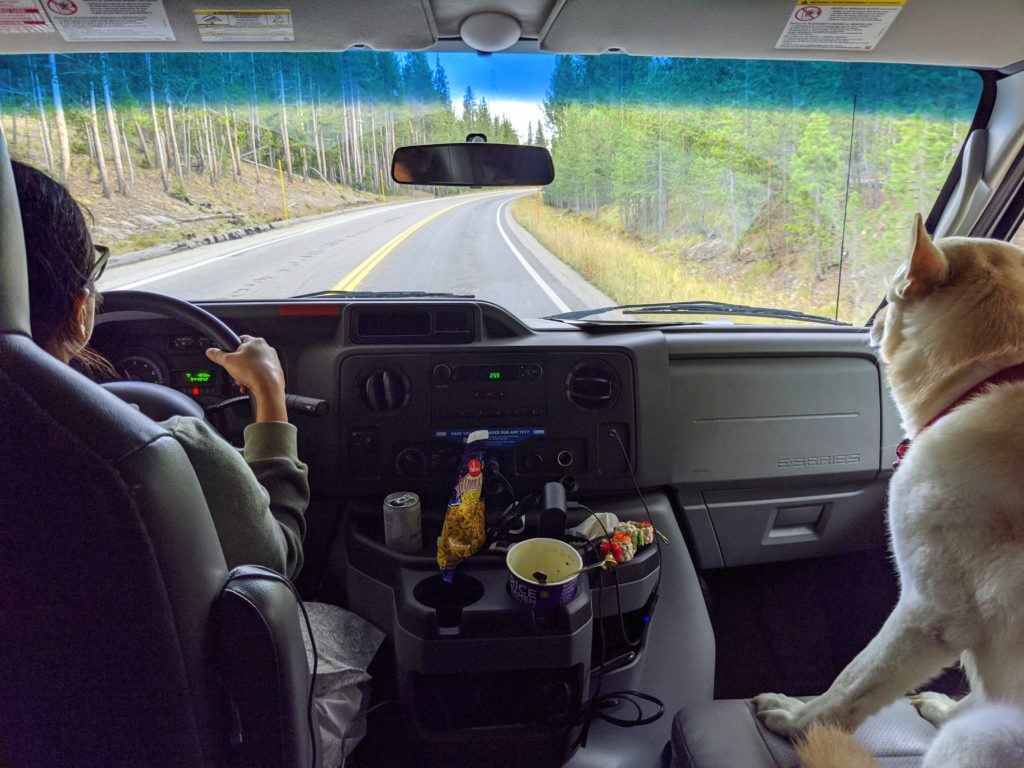 Use cruise control – It can help you stay at a consistent speed thereby giving you better gas mileage.
Turn off the engine when idling – Just like with other motor vehicles, appliances, lights, faucets, etc, if you're not using it turn it off. No point wasting resources for no reason.
Avoid offroading – It can damage the ground and plant life.
Rideshare – If you have extra room in your vehicle then share with someone who is headed in the same direction.
Checklist
Kitchen
Reusable water bottles
Cutting board
Utensils/cutting knives
Can opener
Tongs and skewers for the grill
Dish soap
Bowls, plates, and cups
Paper towels/Napkins
Garbage bags
Potholders
Dishtowels
Skillet
Pot
Disinfecting wipes
Matches and lighter
Reusable food storage container/bags
Bowls and water bottles for the furbabies
Food
Vegetables and fruits
Nuts/trail mix
Granola/energy bars
Condiments, like vegan mayo, ketchup, mustard, relish, etc.
Vegan cheese
Grilling meat alternative, like hot dogs, burgers, brats, etc.
S'more ingredients
Salt and spices
Bread
Canned foods like chickpeas
Peanut butter and jelly
Snacks like popcorn, crackers, chips, pretzels, etc.
Cooking spray or oil
Soups or cup o noodles
Shelf-stable non-dairy milk
Teabags/instant coffee
Shelf-stable prepared meals like Loma Linda, Tasty Bites, etc or Freeze-dried meals
Pet food
Pet treats
Clothes
Hat
Rain gear
Shoes
Bathing suit
Sweatshirts and jackets
Socks
Underwear
Pants and shorts
Short and long sleeve t-shirts
Buttondown shirt for layering
Hangers
Sewing kit
Personal items and toiletries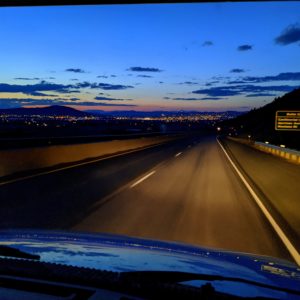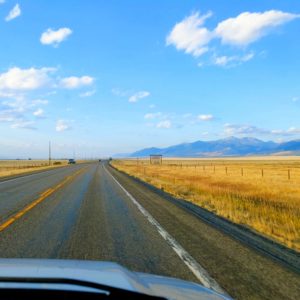 Phone chargers
Cash and credit cards
Driver's license
National Park Pass
Reservations
Travel towels
Sheets and blankets
Pillows
First-aid kit
Allergy meds
Sunscreen
Bug spray or net
Portable chargers for your electronics
Extra fully charged batteries for cameras
Extra SD cards
Medications and prescriptions
Glasses or contact lenses
Sunglasses
Download maps of areas you're driving through( internet will be spotty)
Download music
Download audiobooks
Soap
Shampoo and conditioner
Hairbrush
Toothbrush
Toothpaste
Floss
Deodorant
Hair ties
Lotion
Menstrual products
Razor
Shaving gel/soap
Nail clippers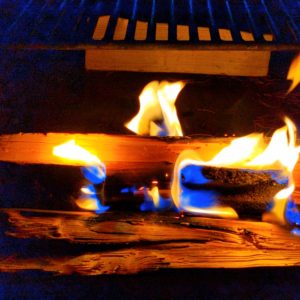 Misc
Camera
Firewood
Camping chairs
Hammock
Frisbee
Binoculars
Board games/Playing cards
Headphones
Laptop
Bluetooth car adapter to stream music or audiobooks
Duct tape
Superglue
Swiss knife
Compass
Whistle
flashlight/headlamp
Where to stay
There are plenty of campsites inside Yellowstone and Grand Teton that can accommodate RVs, like Madison, Mammoth, etc. But be aware that they do fill up quickly even during the shoulder seasons. Grand Teton has many walk-in sites, so that can be an option if you're able to get there early before it fills up.
We stayed just outside the west entrance at a KOA Kampground because all the reservable sites were taken and we weren't sure if we'd get there early enough to get a walk-in site. Thedyrt.com is a great website to find and book campgrounds. The reviews on the site have been pretty accurate so far.
Where to eat
According to HappyCow.net, West Yellowstone has a number of restaurants that offer vegan options, including a pub that has Beyond Burger on the menu. I highly recommend downloading the Happy Cow app if you haven't already. It will locate all the vegan and vegan-friendly restaurants and grocery stores near you anywhere in the world. I have been using it for more than a decade now and it has always come through for me even in remote locations like Easter Island.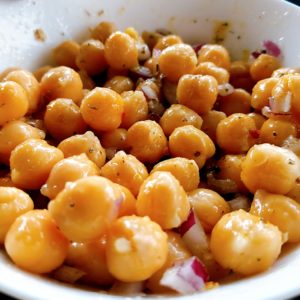 We did not eat out this time instead, we grilled at the campsite and cooked lightly in the RV. We took some cup noodles (Wholefoods has a variety of vegan ones), Tasty Bites coconut squash dal packs, rice, tofu, Just egg, bread, nut butter, jelly, snacks ( chips, nuts, trail mix, etc), and so on. They have two grocery stores in West Yellowstone.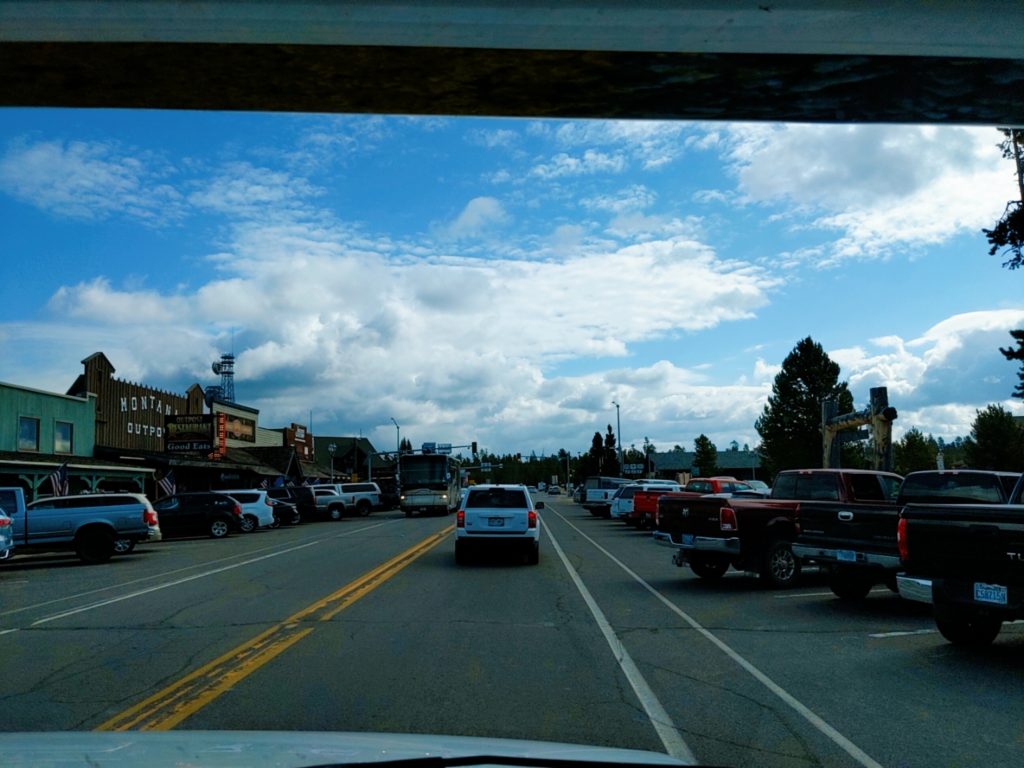 We visited the one that was open late, till 9 pm, Market Place. It was a quick visit to get some greens for Pappy, our bunny. They have plenty of produce and non-dairy milk but I didn't see any vegan cheese, ice cream, or the usual vegan products we are used to nowadays. They did have some Morningstar and Amy's products. I suggest carrying your vegan essentials just in case.
Itinerary
The best time of the year to go to Yellowstone is September-October and April-May because the weather is milder and the crowd will be much smaller, which means fewer traffic jams and more parking spaces.
First things first, you don't want to leave home or an area with a strong internet connection without downloading maps for your route. The internet connection is non-existent or at best weak for most of the drive and even though the route is pretty straightforward it's always nice to have a good offline map just in case. While you're at it download some music and audiobooks too.
We left on a Friday afternoon from Seattle and got back on Monday morning. Since we were short for time, Hari and I took turns driving while the other slept so we didn't take any breaks to sleep along the way. There are many Rest Areas along the highway where you can just pull in when you are tired and rest for an hour or the night.
Apps – USA Rest Stops is an app that can locate the nearest rest stops, welcome centers, and service plazas in the U.S. along interstates, U.S. highways, and state highways within a 25-mile radius.
Waze is another free app that can also alert you to traffic jams and other problems on the road. But since it's community-based, it's possible that not all rest stops have been listed.
It's a good idea to map out rest areas before your trip in case the apps fail. Google has an interactive rest area map with information about what types of amenities are offered – restrooms, pet areas, wifi, vending machines, picnic tables, handicap accessible, and RV stations. Interstate Rest Areas is a really helpful website also.
If you have a lot of time, you can check out Roadside America and Roadtrippers for a list of roadside attractions to see along the way.
We entered the Yellowstone Park from the West entrance and headed South to Grand Teton National Park and worked our way back up to the campsite in the evening. The next day we went back to see the spots we missed in Yellowstone. The first day we were there, it went from thunderstorm to sunny to hail to snow in a span of 8 hrs.
The second day was relatively sunny and mild. Be sure to download the Yellowstone map with all the sights clearly marked or grab one at the entrance so you can mark out what you want to see.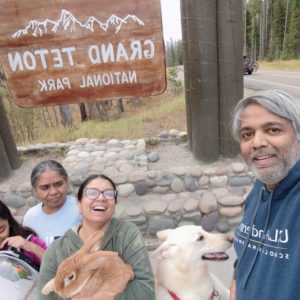 If we had more time we would have taken a detour to the Glacier National Park and Flathead Lake on the way and also would have driven to Lamar Valley, also known as the "Serengeti of North America" and Mammoth Hot Springs (North entrance) before heading back to Seattle.
Our favorite things to do
Here are a few things we think you absolutely must-see or do on your visit to Yellowstone and Grand Teton.
Old Faithful and Upper Geyser Basin – This was our absolute favorite part of the trip especially because a bison decided to take a stroll towards Old Faithful as it erupted and later walked to the Old faithful sign and posed for around 15-20 mins in front of it! Old Faithful is quite spectacular without the posing Bison too. It erupts from 106-184 feet (32–56 m) every 90 mins give or take 10-15mins and will last between 1.5-5mins. Make sure to get here around 20-30 mins (45mins during peak season) before if you want to sit in the front.
You can also hike 1.1 miles round trip to the observation point to get a bird's eye view of the eruption.
Don't skip the Upper Geyser Basin trail.
There're over 150 geothermal features within 1 square mile.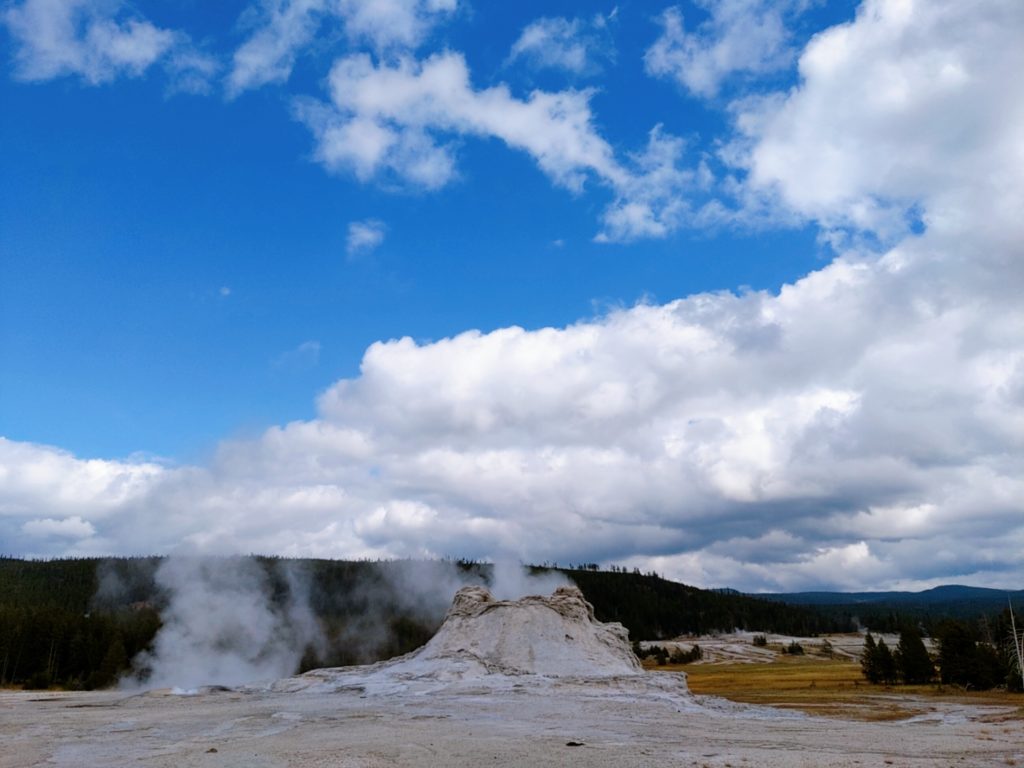 You will be able to see geysers that are older than Old faithful erupt, hot springs, and geothermal pools.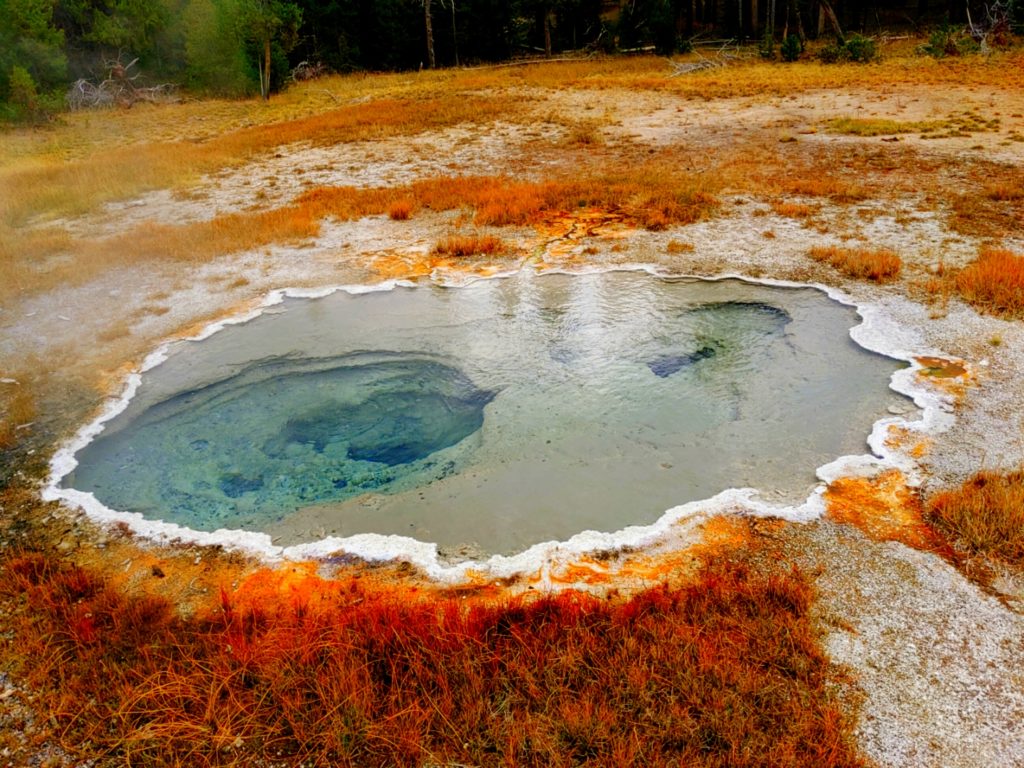 If you're short for time and can't do the entire trail I highly recommend at least taking the trail to Morning Glory, it's quite spectacular!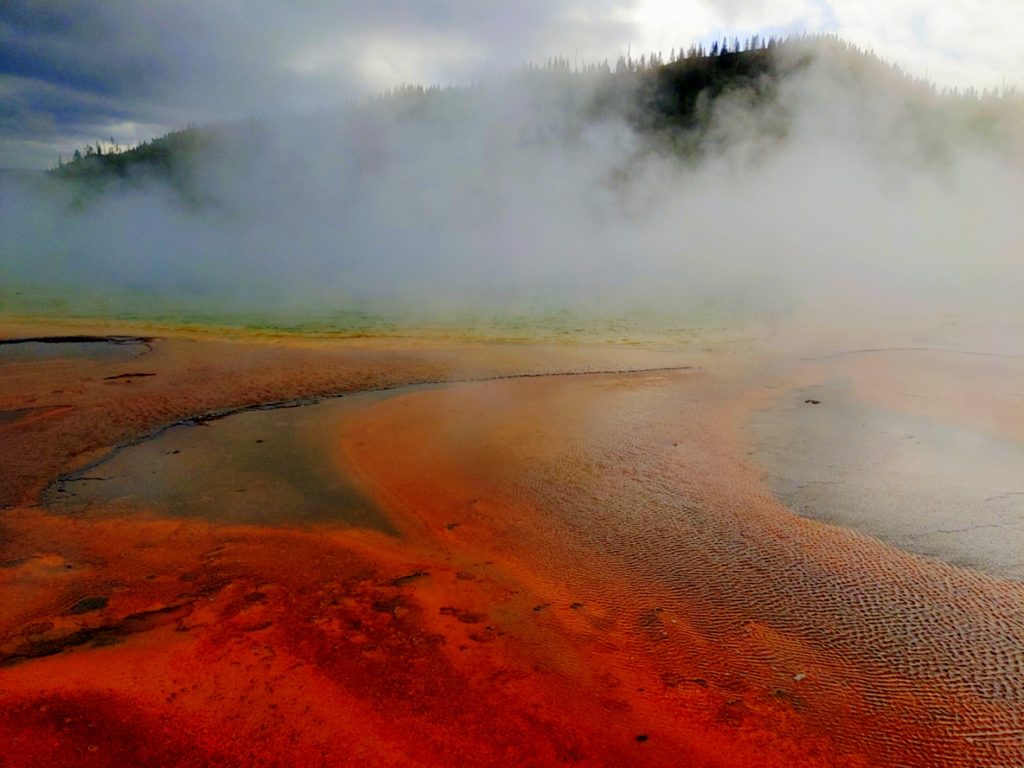 Grand Prismatic Spring and Midway Geyser Basin – Bigger than a football field and deeper than a 10 story building, it's the largest hot springs in the US and the third-largest in the world. It's also the most photographed landmark at Yellowstone, but just be aware that it will not look like those photos because you'll be looking at it from the side not from above. Drones are not allowed.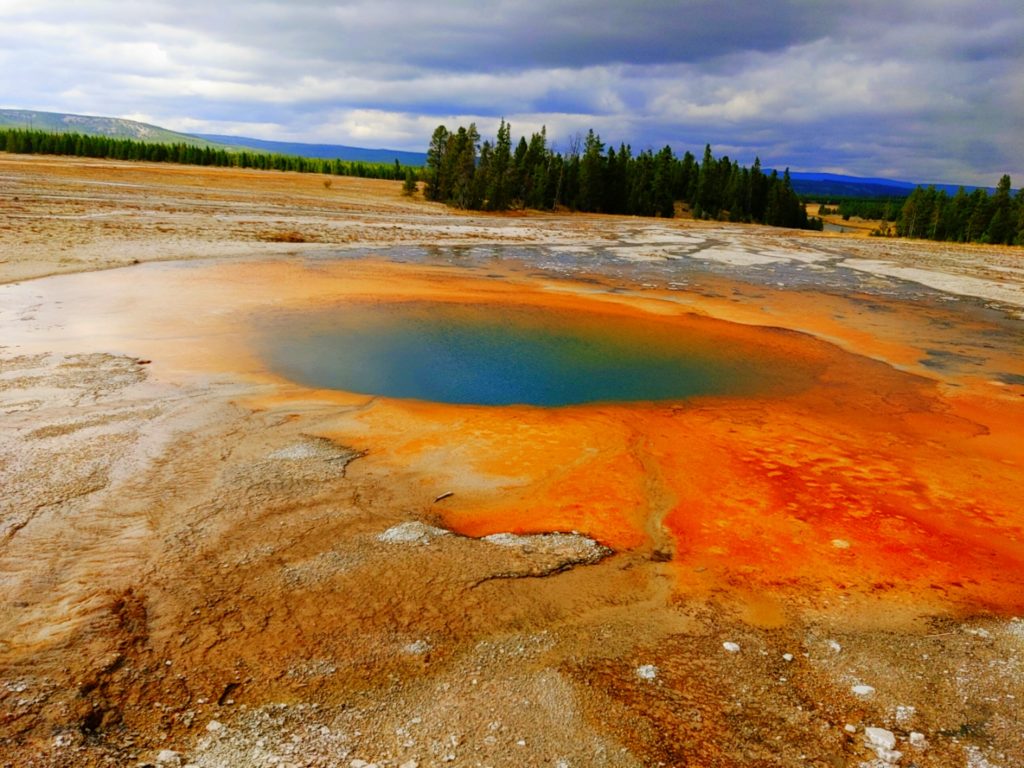 The Midway geyser basin trail has a few other spectacular sites too, like Excelsior Geyser, an enormous geyser crater, Turquoise Pool, and Opal Pool.
It might be small (0.8 mile loop) but it packs a big punch! The trail takes you across the Firehole River and along the short boardwalk that snakes through the thermal area.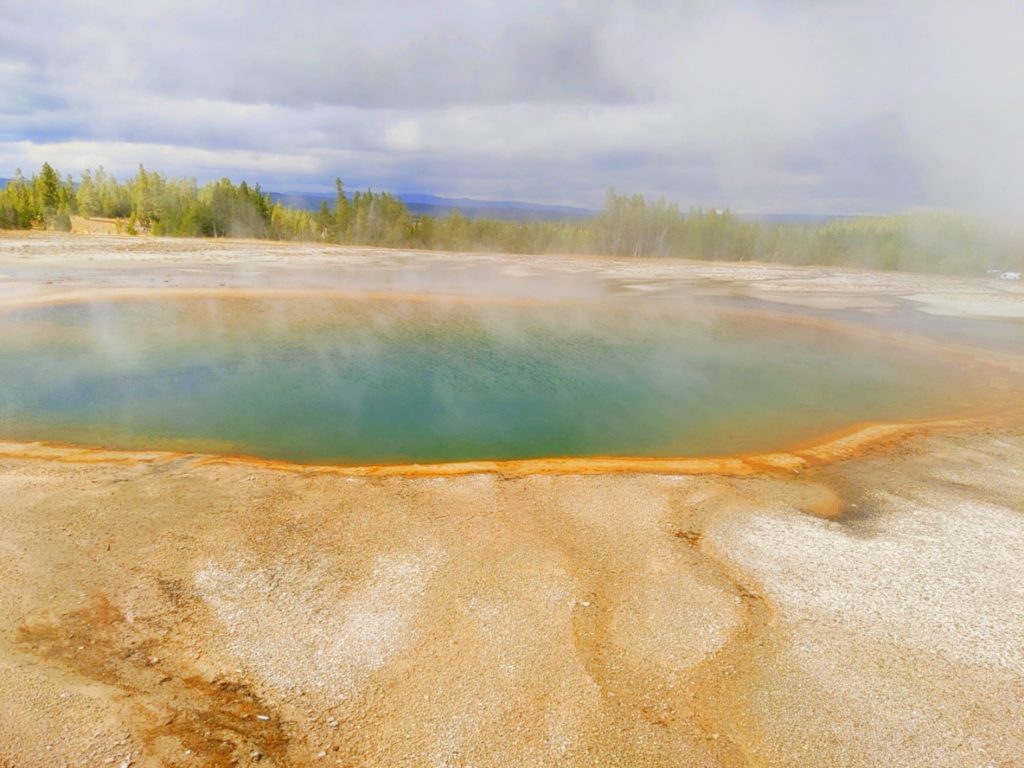 The best time to see it is on a warm sunny day otherwise it will be steaming and the view will be obstructed. That's what happened to us. To get a better areal view, you can take a short hike (1.2-miles roundtrip) to the Grand Prismatic Viewing Platform via the Fairy Falls trail.
Jackson Lake – We loved pulling over by Jackson Lake in Grand Teton and stacking rocks on the shore! It was so relaxing, peaceful, and carefree that we could've easily stayed there the entire day. The views from the shore are absolutely breathtaking that you'll forget for a second that you're actually in landlocked Wyoming!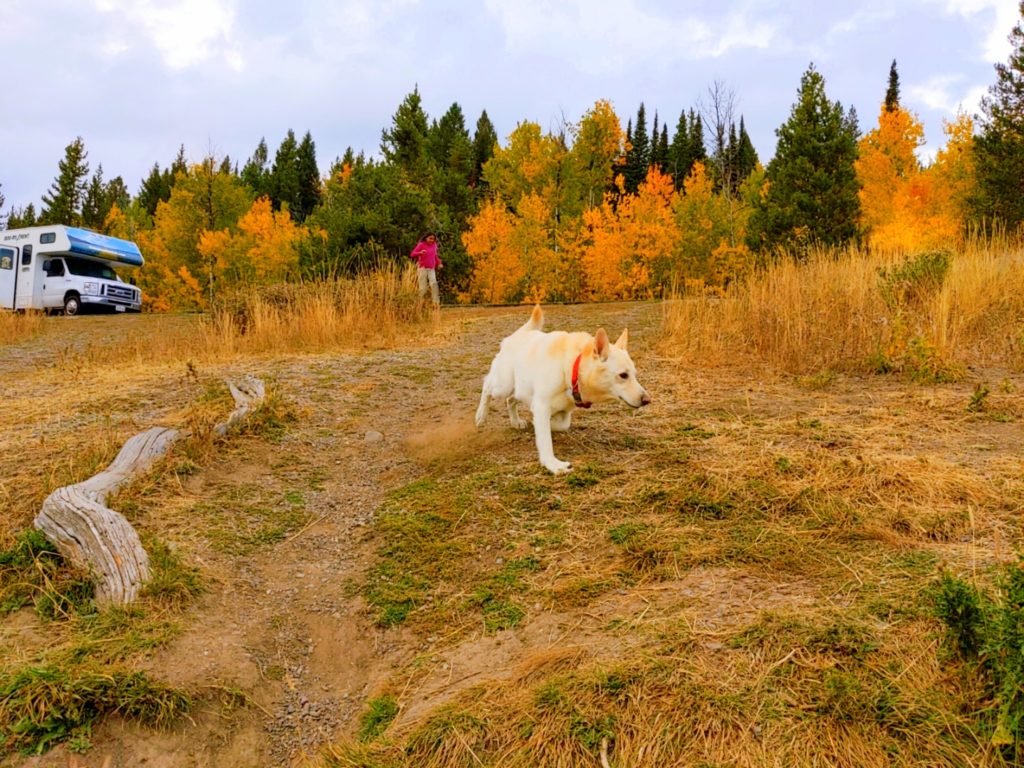 Wildlife – We absolutely loved seeing all the wildlife all over the park, especially on the side of the road.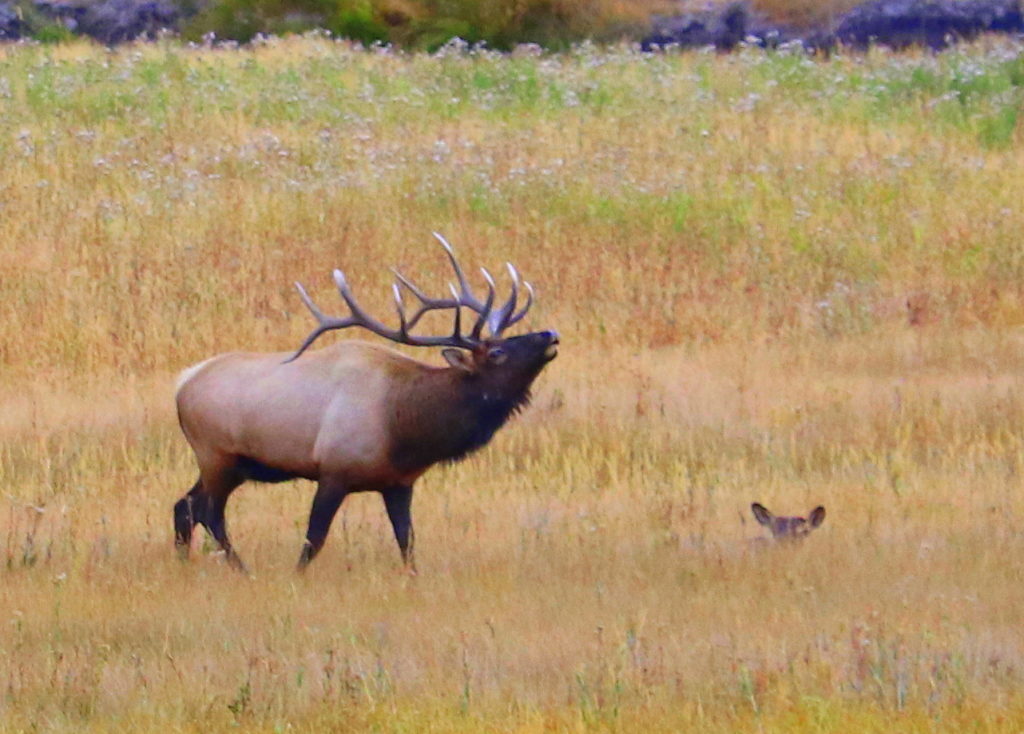 Keep an eye out for them and pull over to the side if you spot them.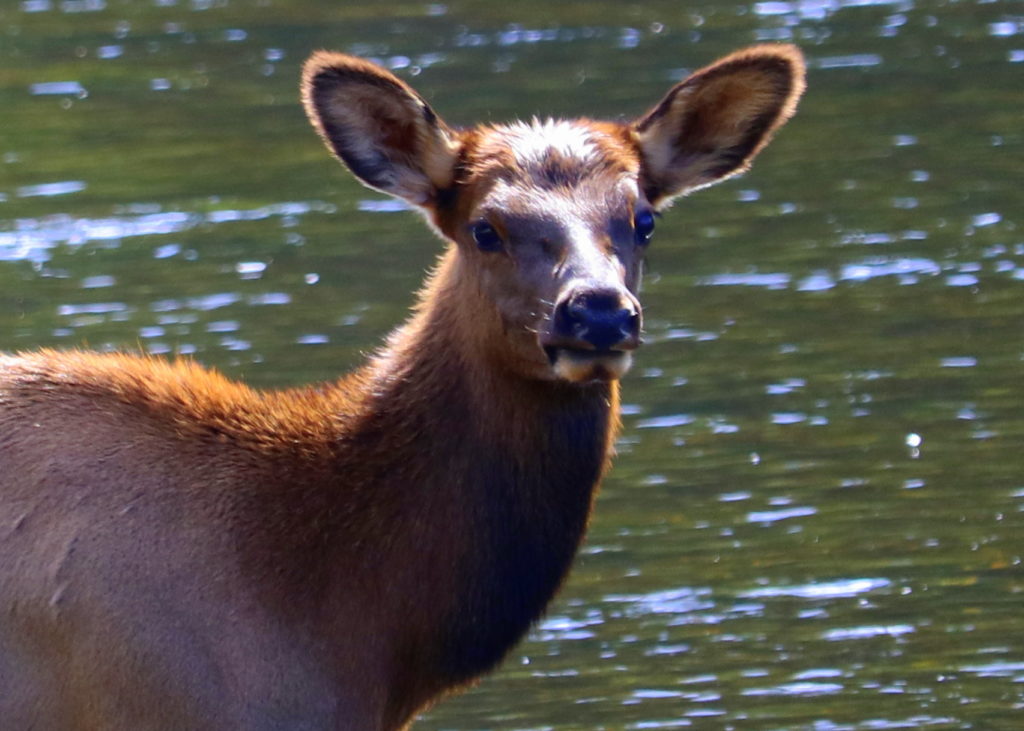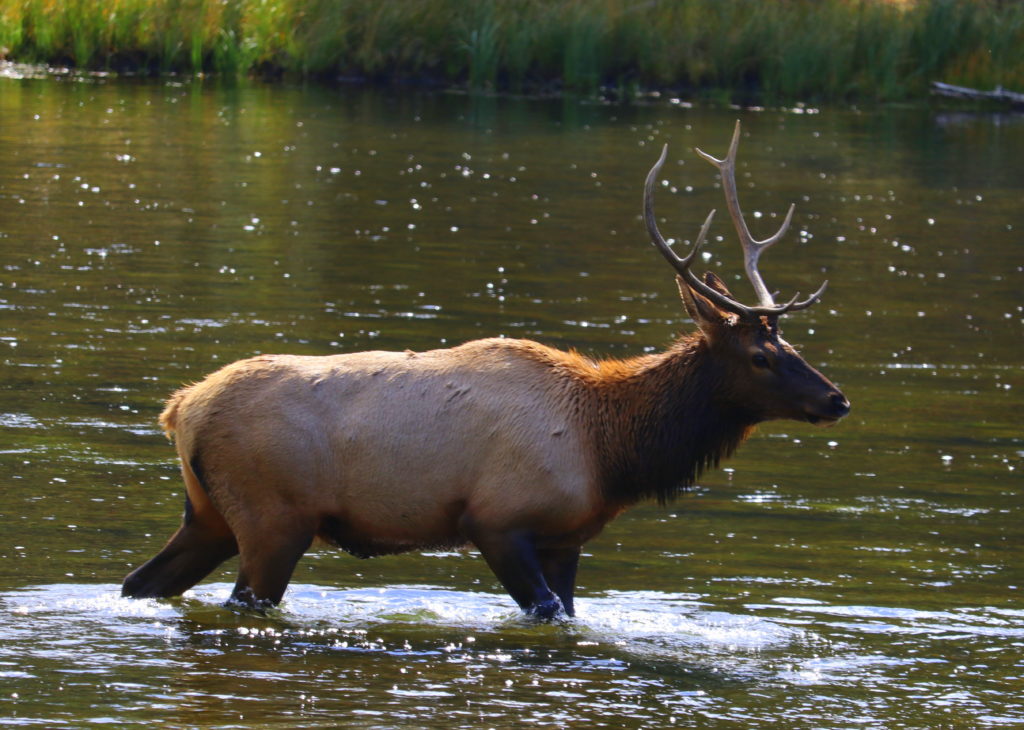 You are allowed to get out of your car and observe or photograph them if you like as long as you maintain a respectable distance.
Pets
According to nps.gov, "Pets are allowed in public areas, parking lots and within 100 feet of any road. They must be on a leash that is not longer than 6 feet in length at all times." The rangers were super welcoming at the gate and even offered Feliks treats (which we politely declined because they were not vegan).
You can also watch Old Faithful erupt with your furbabies from a pet-friendly designated area that's about 200 feet away. We also saw plenty of leashed and unleashed dogs closer to Old Faithful.
They are not allowed on any trails within the park but there are plenty of amazing trails just outside that are pet-friendly. Check AllTrails.com or google for pet-friendly trails near your park entrance. We were hoping to do Targhee Creek Trail but didn't have enough time.
Parking & Traffic
We didn't have any trouble finding any parking spots anywhere in Yellowstone or Grand Teton. The only times we were stuck in traffic were when people decided to step on the brake in the middle of the road to take pics of wildlife.
I totally understand the excitement but it's safer, more considerate, and even more enjoyable to pull over to the side of the road and admire, observe, or take pics.
Happy Trails!
Some of the best parts of being on the road is being able to take in the breathtakingly pristine landscape, the rugged scenery, and the thrill of sleeping somewhere new every night!
Whether we're cutting across the rolling prairie lands or the rocky mountains, or tropical beaches or the dense wilderness, they all have an unexplainable allure that profoundly captivates and inspires us. Our pale blue dot is beautiful beyond words! And by making small conscious efforts we can keep it that way.
And people are as lovely as can be! Preconceived notions go right out the window. For instance, we never dreamed we'd make any new friends during our mad dash. But when we pulled over to the side of the road in a small town in Montana to let Feliks do his business, a very nice lady walking her dog stopped and became our friend, while her dog and Feliks ran around frolicking in the wide-open spaces.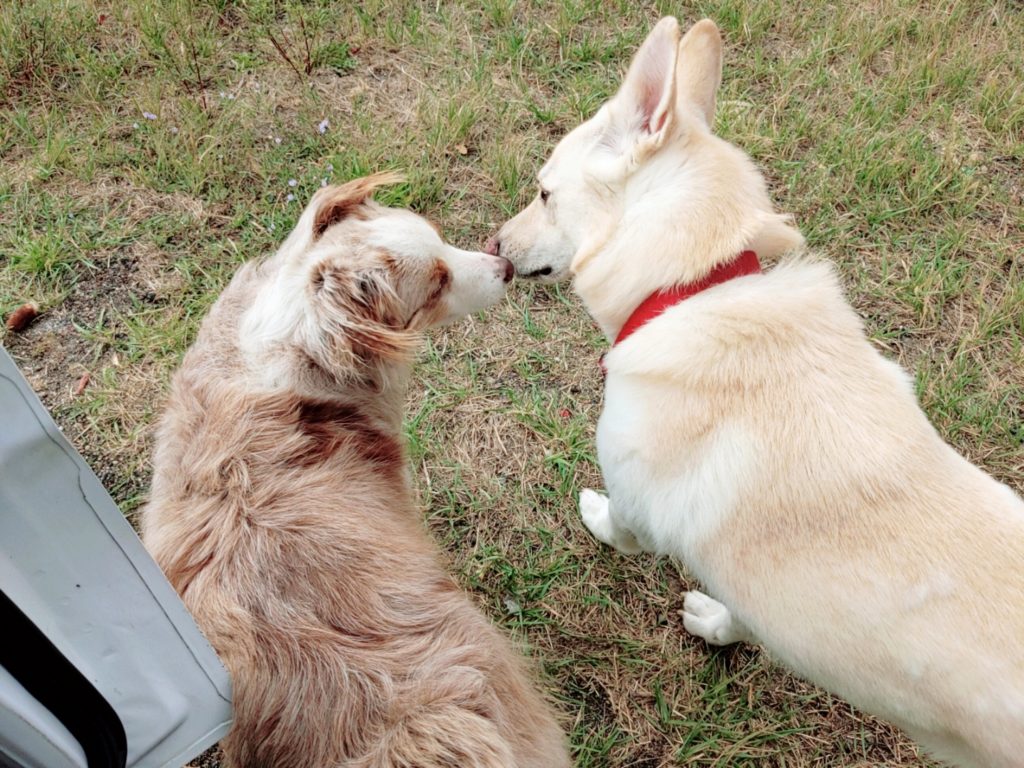 My favorite part of traveling is meeting all the lovely people along the way and coming back home with a restored faith in humanity!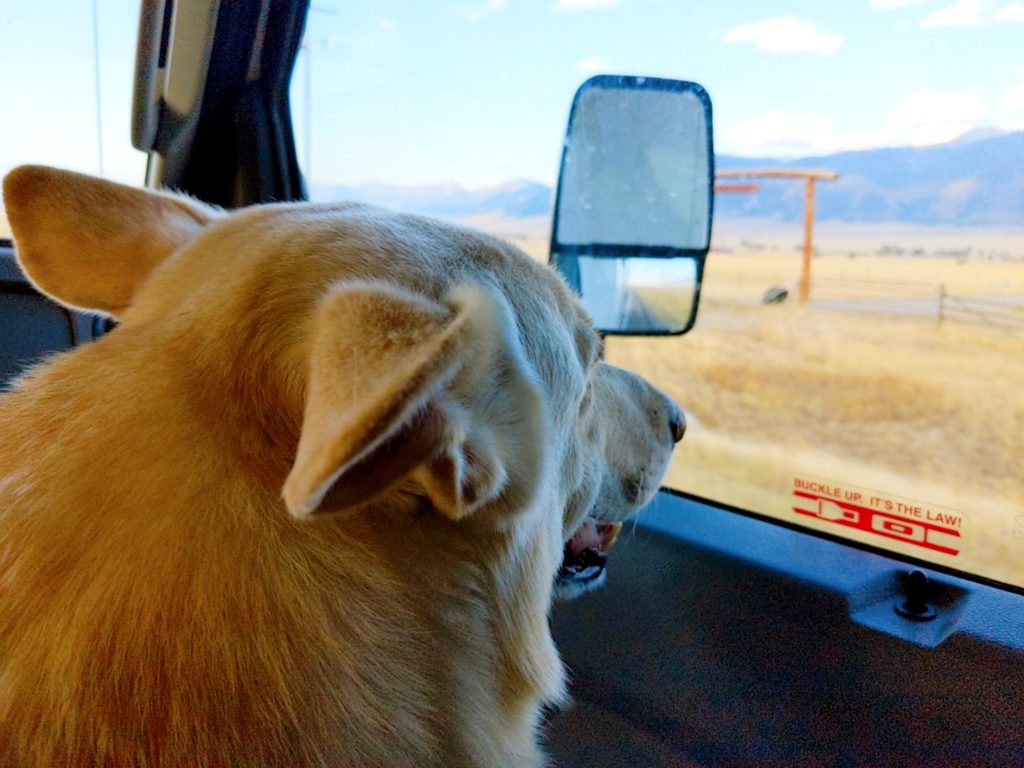 ---
---