Banana Flower Fritters | Vazhapoo Bajji
I make these with the flowers in the outer layers of the banana blossom. The blossom gets turned into a stir fry and these get turned into crunchy snacks for tea. There's no reason to throw away the outer purple layers that you peel off to get to the flowers either, keep them aside to make some delicious coconut chutney.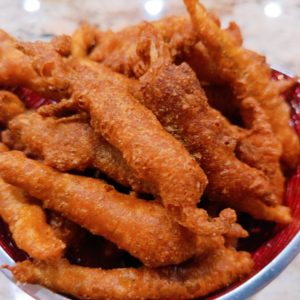 Banana Flower Fritters | Vazhapoo Bajji
Crispy banana flower fritters made with chickpeas and rice flour.
Ingredients
25-30

banana flowers

1/2

cup

chickpeas flour

besan

2

tbsp

rice flour

1/8

tsp

turmeric

1/2

tsp

red chili powder; cayenne

1/2

tsp

garlic powder

1/2

tsp

onion powder

1/8

tsp

baking soda

dash

asafoetida 

1/2

tsp

salt

or to taste

1/4 – 1/2

cup

water

Coconut oil

for frying
Instructions
Add all ingredients except for the flowers and water to a bowl

Sift flour and spices to get rid of lumps.

Make a well and add water.

Mix everything together, taste, and adjust spices. In my case, I added a bit more salt and red chili powder.

When you're done mixing, this is the consistency you want for your batter. Now set it aside while you prep the flowers.

Here is a video on how to prep the flowers. Open the flower, pull off the hard stem with the bulb on top and the scale or plastic like petal and discard. Get the whole family involved, it's a fun activity to do together while you chat. It's also a great opportunity to teach the kids some botany!

Drop the flowers in the batter and gently coat them with the batter.

Heat 1 – 2 inches of oil in a pan to around 375°F (190°C). Drop some batter to see if the temperature is just right. If it bubbles and floats to the top you are ready to go.

Add the batter coated flowers to the oil.

When they are golden brown, take them out of the oil and place them on a kitchen towel to drain.

Enjoy with a cup of hot chai!
---
---