Kerala Style Mango Pickles | Kadumanga Achar
These wild fermented mango pickles are my all-time favorite pickles and an absolute must-have for a sadhya. I can happily eat a big plate of rice or idlis with just these pickles. Not only is it incredibly flavorful, it also has chock-full of nutrients. I like to use green mangoes that are just about ready to ripen, to get a hint of sweetness.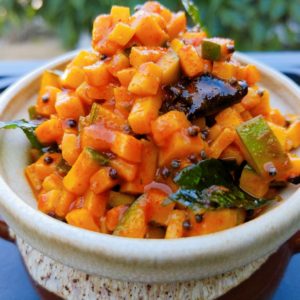 Kerala Style Mango Pickles | Kadumanga Achar
Wild fermented mango pickles flavored with fenugreek and mustard seeds.
Ingredients
Marinade
1

tbsp

red chili powder

cayenne; adjust according to your heat level

1/2 – 3/4

tsp

fenugreek

roasted and powdered

2

tsp

vinegar

salt

to taste
Tempering
1

tbsp

sesame oil

1

dried whole red chili; cayenne

broken into pieces

1

tsp

black mustard seeds

1/8

tsp

asafetida

1

sprig

curry leaves
Instructions
Roast and powder the fenugreek seeds. Add the seeds to a pan and heat on low until it turns slightly darker and you can smell the aroma. Cool and powder.

Mix the diced mangoes with all the marinade ingredients and leave it on your countertop for 6 to 8 hrs.

After 6 to 8 hrs taste the mangos to see if you need more salt, chili powder, and/or fenugreek.

Heat sesame oil in a pan, when it's hot add mustard seeds, whole red chili, and curry leaves. When you put the curry leaves in be prepared for a lot of spluttering. You can put a lid on right afterward for a few seconds to prevent all the mustard seeds from popping out and to protect yourself from splattering oil.

Now mix in asafetida and turn off the heat.

Add the tempered oil to the bowl of marinating mangoes.

That's it! Now you can enjoy it with rice, idli, dosa or chappati. You can store it at room temperature if you think you'll finish it in a week otherwise I would recommend refrigerating it.
---
---