Pulissery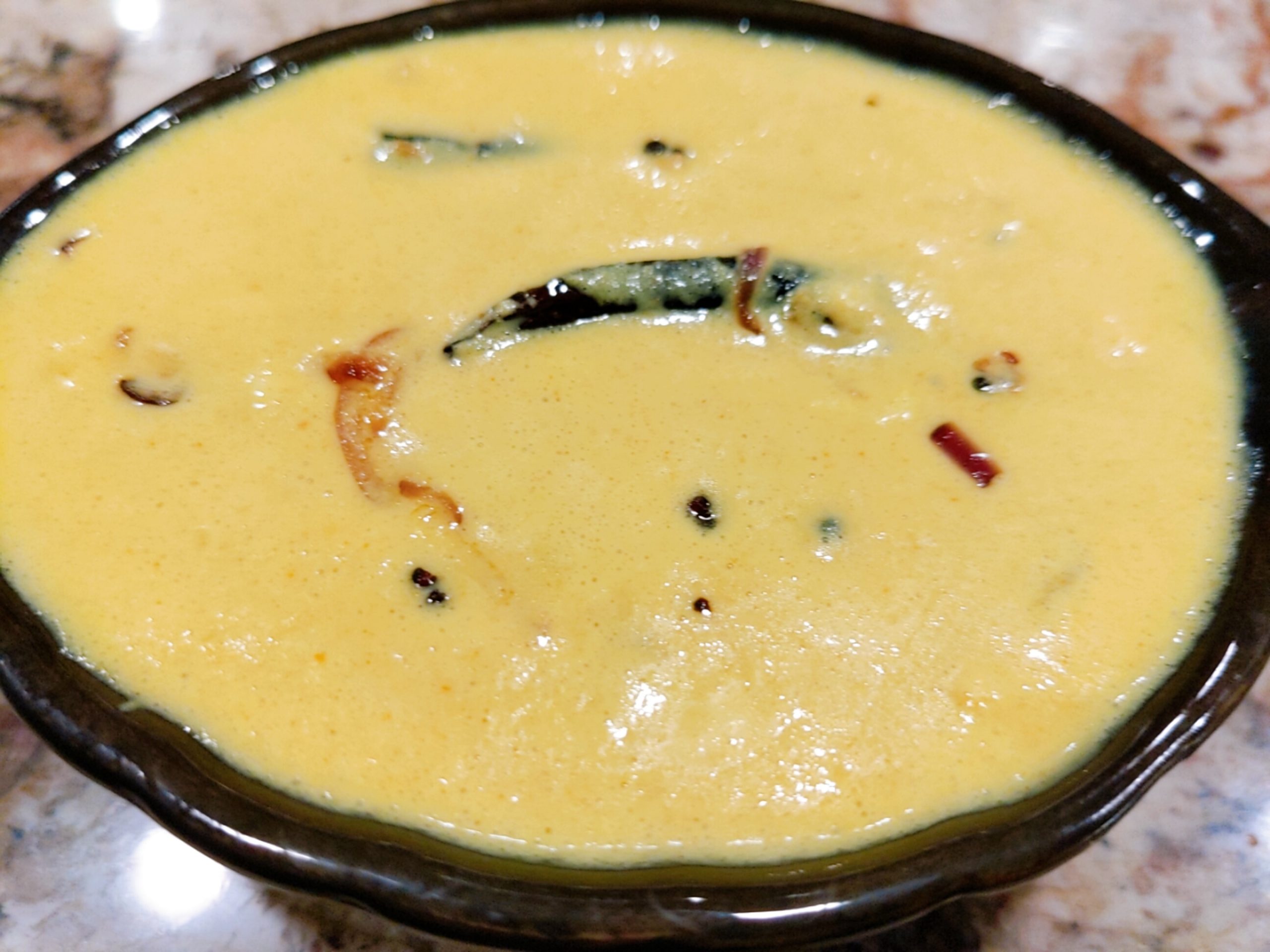 Pulissery is another spiced coconut and yogurt-based curry. It's typically served last during a sadhya when my stomach is ready to burst at the seams so I usually end up not eating it. But I do love it as a casual every other week curry for lunch.
The star of this curry is the fenugreek seeds. It adds a sweet nuttiness and depth to the curry. It can also turn into a bitter mess if you add too much so err on the side of caution.
Fenugreek as been long used in alternative medicines and has many potential health benefits. It's a good source for fiber and minerals, including iron and magnesium. Multiple studies show that drinking fenugreek tea may increase milk production for lactating mothers and subsequently lead to weight gain in infants. It also appears to improve muscle strength and weightlifting power output according to some studies.
To make this curry vegan, just swap out the dairy yogurt with your favorite homemade or store-bought non-dairy yogurt, like soy, cashew, almond, or peanut. Although for this recipe, I am using silken tofu because it is something that I have on hand all the time and I also love the thick creamy consistency that blended tofu brings to the curry.
Pulissery
Spiced coconut and blended silken tofu based curry seasoned with fenugreek seeds. A vegan version of a classic sadhya dish.
Ingredients
Coconut Mixture
1/2

cup

grated coconut

fresh or frozen

1

green chili 

adjust according to your heat level

2

cloves

garlic

1/2

inch

ginger

3

shallots 

you can substitute red or yellow onion

1

tsp

cumin seeds

1

sprig

curry leaves

1/4

tsp

turmeric

1/4

tsp

red chili powder; cayenne

salt to taste
Tofu Curd
1

box (12.3 oz)

silken tofu

 regular tofu will also work

1-2

lemon or lime

1/2

cup

soy milk

salt to taste
Tempering
1

tsp

mustard seeds

1/2

tsp

fenugreek seeds

2

dried whole red chilis

1

sprig

curry leaves

a pinch

fenugreek powder

2 – 4

cloves

garlic

crushed

1/2

inch

ginger

crushed

6-8

shallots

sliced; you can substitute red or yellow onion

2

tbsp

unrefined coconut oil
Instructions
Gather all the ingredients for the coconut mixture and blend to a smooth paste.

Blend the tofu, soy milk, juice from 1 or 2 lemons or limes, and salt.

Add coconut mixture and tofu curd to a pot and cook for a few mins stirring occasionally. Add more water if the curry is too thick for you.

In another pan heat coconut oil and add mustard seeds, fenugreek seeds, dried red chilis, and curry leaves. When you put the curry leaves in be prepared for a lot of spluttering. You can put a lid on right afterward for a few seconds to prevent all the mustard seeds from popping out and to protect yourself from splattering oil.

Now add a pinch of fenugreek seed powder and give it a good stir for a couple of seconds and add crushed garlic and ginger. Stir fry for a minute and take in that beautiful aroma!

Now throw in the sliced shallots and a couple of pinches of salt.

Saute the mixture until the onions are translucent.

Add the onion mixture to the curry and stir it in. That's it!
---
---