Brown rice noodles with spicy peanut sauce
In the mood for something spicy? Here is a really versatile gluten-free recipe that is sure to hit the sweet spot! In case you don't like spicy food, all you have to do is refrain from adding chilies. You can pretty much use any of the vegetables you have sitting in your fridge. And if you are short on time, use pre-cut frozen veggies instead of fresh veggies.
Brown rice is white rice before it had the hull and bran removed and therefore retains a lot more natural goodness. It is rich in protein, thiamine, calcium, magnesium, fiber, and potassium, unlike its polished counterpart. Since white rice has been stripped of most of its nutrients during the refining process, manufacturers must fortify it with synthetic vitamins and iron so that it can be marketed as a "nutritious food."
One cup of brown rice has about 80% of our daily manganese requirements, which helps our body synthesize fats and also benefits our nervous and reproductive systems.
Another thing you probably didn't realize about brown rice is that it is very rich in antioxidants, much like blueberries and strawberries. It also has a high fiber content and a low glycemic index, so it's an excellent choice for those who have diabetes as well.
Ingredients
8 oz brown rice noodles/Maifun
2 tbs coconut oil
1 large onion sliced
2 or 3 thai peppers or green chilies
8 cups assorted veggies (celery, carrots, bok choy, mushrooms, broccoli, bell pepper, spinach, bamboo shoots, anything in your fridge  or frozen stir fry if you're short on time.)
Sauce:
4 tbsp peanut butter
1-2 tsp red chili powder
2 tbsp coconut sugar
1-inch piece of ginger, crushed or minced
2 clove garlic, crushed or minced
3/4 cup water
2 tablespoons tamari (gluten-free) or soy sauce
Garnish with:
Cilantro
Green onions
Chopped peanuts (optional)
Bean sprouts (optional)
Lime juice (optional)
Directions
Mix together all the sauce ingredients in a bowl. Don't worry about any lumps. This is what's going to flavor the veggies, and the noodles, so taste the sauce and make necessary adjustments.
Add more chili powder and ginger if it's too mild, add more coconut sugar if it's too spicy, and adjust the salt. Then, when you think it's perfect, set it aside. On a side note, I also like to use this sauce as a vegetable dip.
If you are using fresh vegetables, bias cut or diagonally cut them, as this exposes more of the vegetable's surface area to the heat.
Doing so will cook them faster and help them absorb more of the sauce and seasoning it's being cooked in.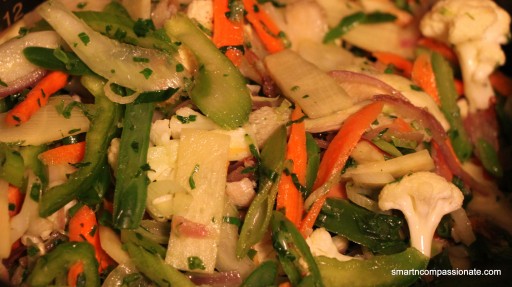 In a large skillet or wok, heat coconut oil over high heat. When the oil is hot, add the sliced onion and cook until it's fragrant and translucent. Now throw in the veggies along with some salt and stir fry for a couple of minutes.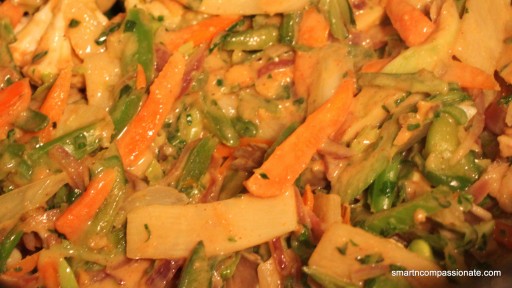 Add peanut sauce and let it cook until the veggies are done.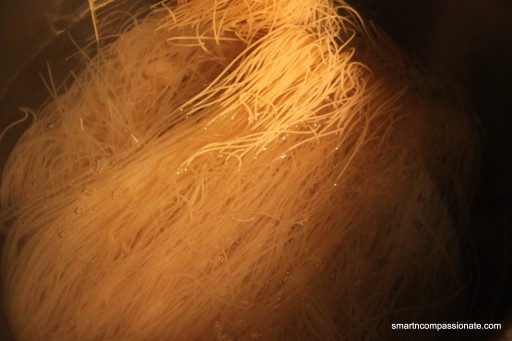 Prepare the noodles while the veggies are cooking. You can follow the directions on the packaging or check out this video on how to cook rice noodles.
https://www.youtube.com/watch?v=GmL45RBpKPc
Once the noodles and vegetables are cooked, mix them together and garnish with cilantro, bean sprouts, lime juice, and chopped peanuts.
---
---