Spaghetti & Zucchini Noodles With Greens & Avocado Sauce
Here is another easy and nutrient-dense dish. We all know how absolutely essential greens are for good health. They are low in calories, low in sugars, low in sodium, no cholesterol, high in fiber, and a nutrient powerhouse!
They contain a high amount of antioxidants,  iron, zinc, magnesium, potassium, and vitamins A, C, E, K, and B. In addition, they are rich in phytonutrients which help boost our immune system and protect against cellular damage.
Avocados or alligator pears contain about 20 different vitamins and minerals and have absolutely no cholesterol and very little sodium. In addition, most of its fat is oleic acid, which has been shown to reduce inflammation and also have beneficial effects on genes linked to cancer.
These oils also help us better utilize fat-soluble nutrients like vitamins A, D, E, and K. So not only are avocados highly nutritious all by themselves, but when combined with other plant foods, they can dramatically increase the absorption rate of the nutrients in that food as well.
This is, in fact, one of my preschooler's favorite dishes; it's almost right up there with palak tofu, a vegan variation of palak paneer. If you're not particularly fond of the taste of greens, reduce the amount of greens and increase the amount of cashews.
Ingredients
24 oz greens (approximately 8 cups)
1 large avocado
5 garlic cloves
2 or 3 tbs of olive oil
2 or 3 tbs of nutritional yeast
1/4 to 1/2 cup of walnuts
1/4 cups cashews
1lb spaghetti
2 zucchinis
Directions:
Place a large pot with 4 quarts of water on the stove. Don't add salt to the water yet, as it will elevate the boiling temperature of the water and will slightly increase the time it'll take to bring the water to a boil.
While you are waiting for the water to boil, start preparing the sauce by wilting the greens. You can use your favorite greens like kale, collard, spinach, or even a blend. This time I am using a blend of kale, chard, and spinach that I picked up from Costco.
Just place the greens in a pot with a tight lid and heat on high for about a minute or two until the pot warms up.
Don't be tempted to lift the lid; just put it aside for a while and let the heat wilt the greens. All that greens will reduce to about 2 1/2 cups.
When the water comes to a boil, add about 1tbs of salt, followed by spaghetti, and cook for about 8 to 10 minutes or until al dente. Here is a short video on how to cook pasta perfectly.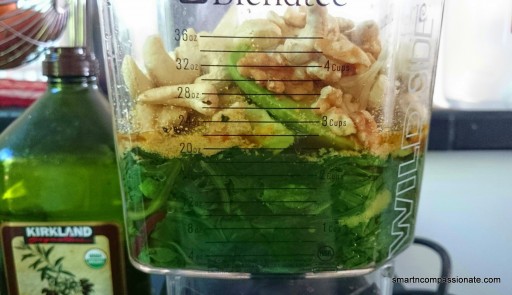 While the pasta is cooking, make the sauce by blending all the ingredients except for the zucchini and pasta in a high-speed blender; when it's smooth and creamy, set aside.
When the pasta is al dente, make sure to reserve about a cup of pasta water.
Once drained, mix hot pasta with sauce and use reserved pasta water to loosen it up if necessary.
Now using a julienne peeler, make zucchini noodles and mix them into the pasta. I use the entire zucchini, including the skin and seeds especially, since the skin is particularly antioxidant-rich.  Buon appetito!
---
---