Nadan Beefless Curry
This is our attempt at veganizing a popular thattukada dish (street food) from Kerala. Hope you enjoy it as much as Hari and I enjoyed putting it together!
Ingredients:
1 bag Gardein Beefless Tips or soya chunks or tofu (8-9oz or 250gm)
6-7 Shallots/small red onions, sliced (kunjulli)
1 Red onion, diced
1 large Tomato, diced
3 or 4 cloves Garlic, crushed or diced
1 inch piece Ginger, crushed or diced
5 Green chillies, slit or diced
3 tbsp Coconut oil
20 Curry leaves
¼ – ½ cup Bite size coconut pieces (thengakothu)
Salt
Masala Powder:
1 tbsp Coriander Powder (Malli)
1/2 tsp Turmeric Powder (Manjal)
2 tsp Chilly Powder (Mulaku)
1 tsp Black Pepper Powder (Kurumulaku)
1/4 tsp Fenugreek (Uluva)
1 tsp Cumin (Jeerakam)
1 tbsp Fennel Seeds (PerumJeerakam)
8 to 10 Cloves (Grambu)
2 Green Cardamom (Elakka)
2″ long piece Cinnamon (Patta)
1 Star Anise (Thakkolam)
1/4 tsp Nutmeg Powdered (Jathikka)
1 Mace (Jathipoo)
1 handful Rice (Ari)
On a low flame begin by lightly dry roasting the powders, stirring or shaking the pan constantly to prevent it from burning. Then continue to dry roast each type of whole spice individually. When you can smell the spice it's time to transfer the spice to a bowl and dry roast the next spice.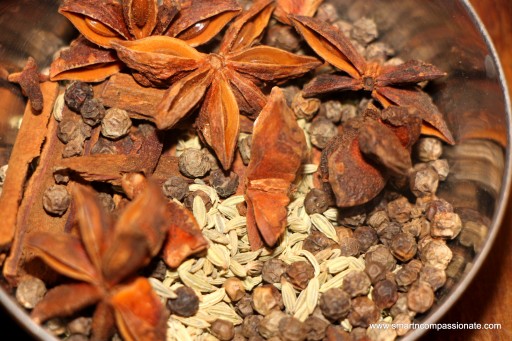 After it's cooled down use a grinder to powder it.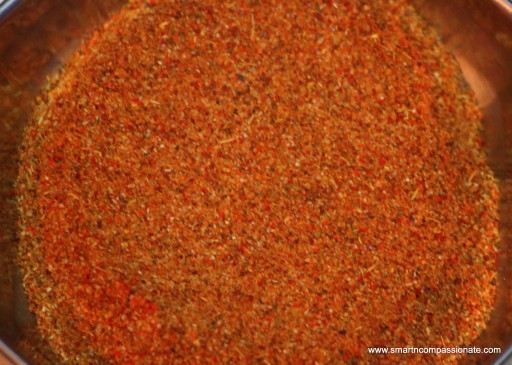 You can also make this powder in bulk and store it in an air tight container for future use. I usually multiple the ingredients by ten and powder it in a large coffee grinder. For small portions I use Krups coffee grinder and for large portions Cuisinart. As of now those two have done a great job and hasn't died on me every 2 months like many other brands I've tried.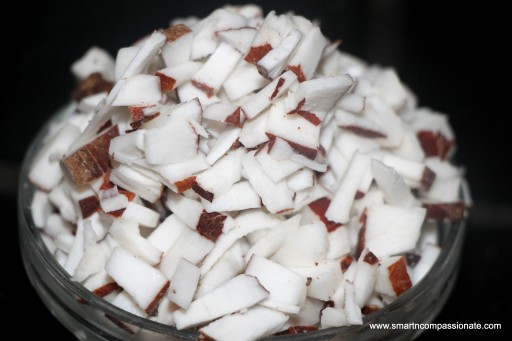 Cut fresh or frozen coconut into little pieces.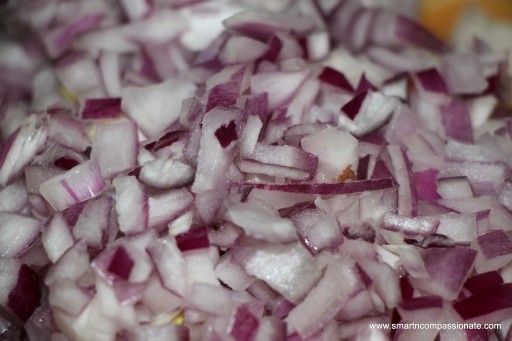 Dice the onion.
Dice the tomato.
Slice shallots and if you don't have access to fresh shallots you can buy peeled and frozen shallots at an Indian grocery store.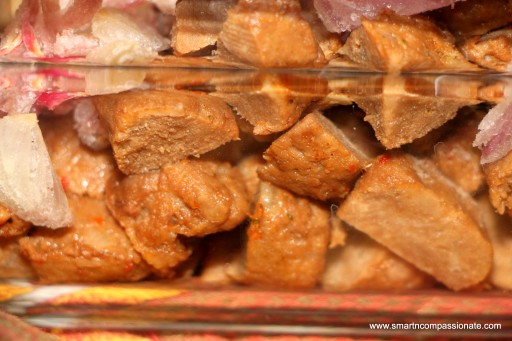 Cut each beefless tips into 4 pieces.
Mix together the powdered spices ginger, garlic, shallots/small red onion, salt, curry leaves (about 12) & beefless tips.

Heat the oil in a pan and fry the coconut pieces. When it turns light brown add the chopped onion and saute till the onions are translucent.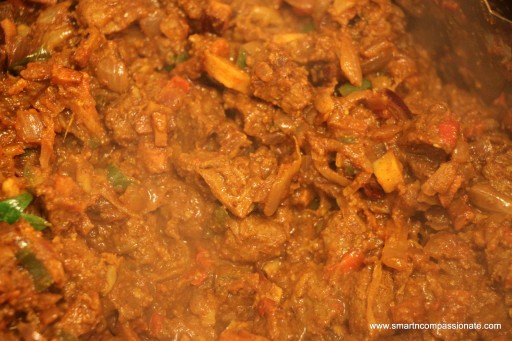 Now add the marinated mock beef and saute for few minutes, about 3-5 mins.
Then add chopped tomatoes and saute until the tomatoes become soft. Add the rest of the curry leaves and 1/2 -3/4 cup of water and simmer for a minute or two.

This curry goes great with rice, chapatti, appam, idiappam or Kerala parotta. All of the mentioned Indian breads can be found at the frozen section of an Indian grocery store. Enjoy!
---
---