Southwest Tofu Scramble
Tofu is extremely versatile, and it can be added to almost anything you can think of, like smoothies, soups, salads, entrees, sides, and desserts. It can be fried, baked, broiled, stewed, grilled, or scrambled and can be eaten for breakfast, lunch, dinner, or even as a snack. Tofu is pretty flavorless but will take on the flavor of anything you add to it and provide you with great texture. If you've already whipped up a batch of salsa after my last post, you can make this in under 5 mins. Just use salsa instead of onions, tomatoes, jalapenos, and garlic. It can be eaten as breakfast with potatoes or shiitake bacon or as a sandwich or burrito for lunch. You can very easily make this Indian by using thai pepper or serrano pepper instead of jalapenos, by adding curry leaves, and by switching from olive oil to sesame, coconut, mustard, or peanut oil
Ingredients:
1 12-oz container firm or extra firm tofu, drained and crumbled
1 small onion diced
1 tomato diced
1-2 jalapenos diced
1/2 cup of veggies like mushrooms, bell peppers, etc. (optional)
1 tsp garlic minced
1/2 tsp turmeric powder
1/2 tsp cumin powder
1/4 tsp cayenne pepper powder or to taste
3 tbsp nutritional yeast (optional)
1-2 tbsp olive oil
Sea salt to taste
Black salt to taste (optional)
Directions:
Start by dicing the tomato, onion, jalapeno, and garlic.
Heat oil and saute diced onion with a pinch of salt. The salt will draw out the liquid from the onion and make it softer. When the onion is translucent, add the garlic and saute for a minute or two.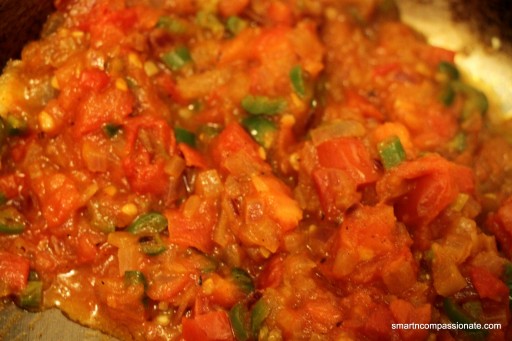 Now add tomatoes and saute until it becomes soft and pulpy. If you're adding veggies, add them now and saute. Now add all the powders except for black salt and mix well.
Add crumbled tofu and mix it in well.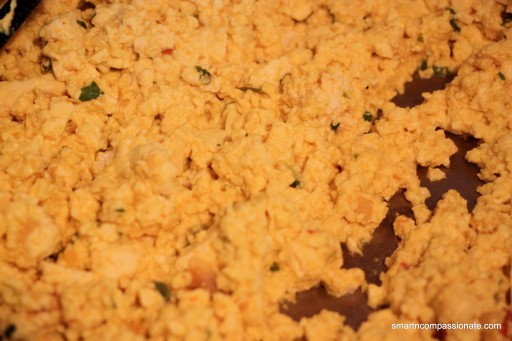 Cook until it reaches your desired consistency. Make sure to use your spatula to break the tofu into smaller pieces.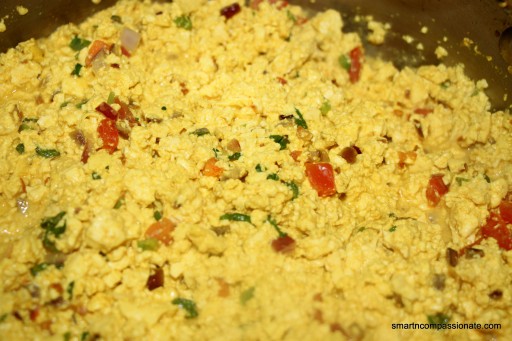 I feel this dish tastes better if you let it sit for a few mins after it's done cooking so that the tofu can soak up all the flavors.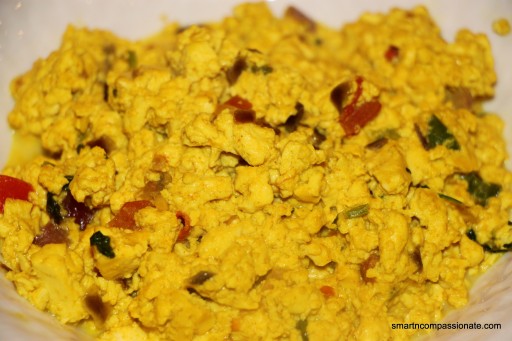 If you plan to add black salt, mix it in right before you are ready to eat. It smells like eggs due to its high sulfur content, and the smell will quickly dissipate. You can find black salt or kala namak at the Indian store or online. Skip this step if you don't like the odor of eggs.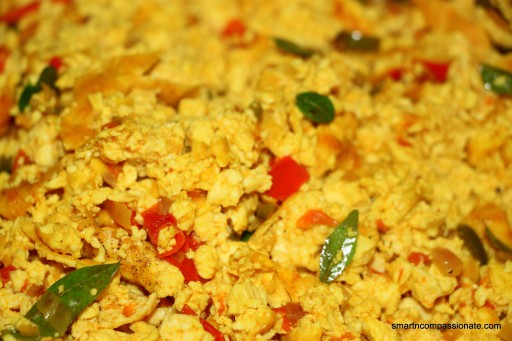 Here is the Indian version.
---
---