Vegan Sicilian Cannoli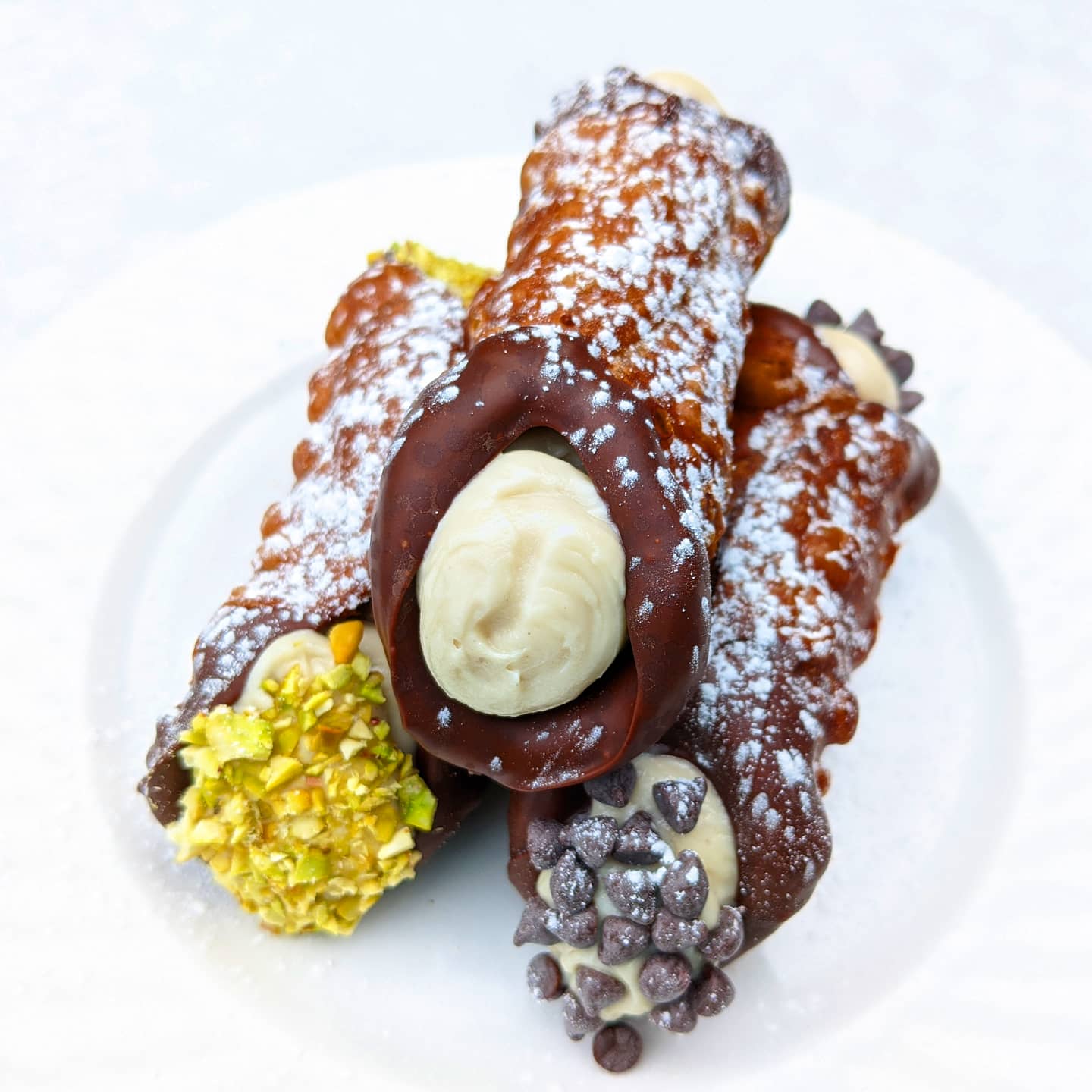 During the past couple of months of our quarantine life, I've found myself diving headfirst into vegan cheese making. I made some cashew ricotta recently, and all I could think of was cannoli! The first time I made it, I used the ricotta recipe from Full Of Plants' free e-book The Art of Vegan Cheese Making, which uses mesophilic cultures and transglutaminase and takes around two days for it to be ready. It turned out amazing!
The second time around I didn't have the patience to wait for two days for the ricotta to be ready so I threw together an easy peasy ricotta recipe using cashews and tofu. And I am happy to say it still came out amazing! You can find my Cashew-Tofu Ricotta recipe here.
There are plenty of other vegan ricotta recipes out there that use almonds, tofu, macadamia etc so feel free to use your favorite recipe or even store bought ricotta like Tofutti or Kite Hill if you prefer.
I haven't had cannoli in over a decade and I am beyond thrilled how these turned out. Light crunchy shells filled with sweet creamy deliciousness!
The filling is just ricotta, powdered sugar, a dash of cinnamon and a sprinkling of orange zest.
The shells were a total experiment and I didn't expect it to come out so good! It gets it's color from cocoa, coffee, marsala and brandy. I used almond oil and Ener-G Egg Replacer instead of butter and eggs. Fried them in refined coconut oil and dipped the ends in melted chocolate.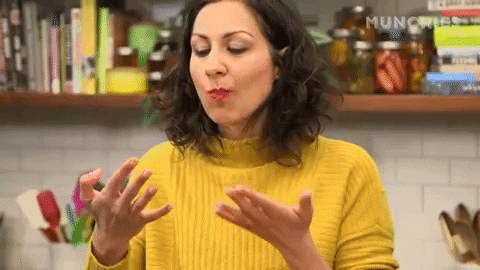 Fun fact cannoli is actually plural and cannolo, which means "little tube", is singular.
Vegan Sicilian Cannoli
Light crunchy shells hand dipped in chocolate, filled with sweet creamy cashew ricotta! 
Equipment
Cannoli forms or tubes, 5 inches

Rolling pin
Ingredients
Shells
1

cup

all-purpose flour

1

tbsp

almond oil

1

tbsp

sugar

1

tbsp

sweet marsala

1

tbsp

brandy

1 1/2

tsp

cocoa powder

1 1/2

tsp

instant coffee powder

1 1/2

tsp

Ener-G egg replacer

3

tbsp

aquafaba

Bean water from a can of chickpeas or homemade

1/8

tsp

sea salt

2

tbsp

almond oil

To grease the cannoli forms/tubes

2

cups

refined coconut oil

For frying

1/2

cup

vegan chocolate chips

To dip the edges; I used Enjoy Life

2-4

tbsp

powdered sugar

For dusting
Filling
1

cup

ricotta cheese

homemade or store bought; drained

3/4

cup

powdered sugar

1/16

tsp

cinnamon

1/2

tsp

orange zest

4

tsp

 candied fruit cut into small pieces

(optional)

4

tsp

vegan mini chocolate chips

(optional)

4

tsp

finely chopped pistachio

(optional)
Instructions
Shells
In a medium bowl, sift together the flour, sugar, cocoa powder, coffee powder, egg replacer and salt.

Make a well in the middle and add all the liquid ingredients like almond oil, marsala, brandy, and aquafaba.

Mix everything until it becomes a smooth dough. The dough should be similar to pasta dough – firm but with some give. Cover the dough with a damp kitchen towel and let it rest for 2 hrs.

It is a bit tedious to roll it into a large sheet, so I roll it the same way I roll out chapatis. First, divide the dough into 11 equal parts. Then, cover the plate with a damp cloth while you're rolling each ball to make sure they don't dry up.

Oil the cannoli forms with almond oil and have them ready.

Flatten the dough ball with your hand on a floured surface.

Roll it out to a very thin sheet (1/16 inch).

Cut them into circles using a round cookie cutter (a bowl and knife also work). I used a 4 1/2 inch cookie cutter.

Save the scraps to roll the 12th circle. Depending on how thin you roll them, you might get enough scraps to roll out more than one.

Place the oiled cannoli form in the middle of the sheet.

Use your fingers to wet the overlapping part with water.

Press on the edges to stick them together. Don't wrap the sheet too tightly around the form because it might get hard to separate them when we're done frying.

Repeat with all the sheets.

Heat the refined coconut oil in a medium pot with a heavy bottom. Ideally, maintain the oil temperature around 375F – too cold, and it gets oily; too hot, it puffs up too fast.

Submerge the shells in the oil and fry for about 2 mins.

Make sure to remove the shells from the metal tubes before they cool down. Place them on a kitchen towel, then using 2 kitchen towels, hold the tip of the metal tube with one hand and the shells (gently) with the other hand and slowly pull the shells off the tube.

Let them cool down on a wire rack before proceeding to dip them in melted chocolate. To melt the chocolate chips, just microwave them for 20 to 30 seconds, take them out, and give them a good stir. Repeat this process of microwaving and stirring until all the chocolate chips have melted.

Dip the ends of the shells and let them dry on a wire rack. You can also place them in the refrigerator if you want them to dry faster.

Cannoli shells can be made a week in advance. They can be kept at room temperature, refrigerated, or frozen, depending on how soon you plan to use them.
Filling
In a medium bowl, add ricotta, powdered sugar, cinnamon, and orange zest and whip it until it's very smooth. You can also add chocolate chips or chopped chocolate and small pieces of candied fruits like lemon, orange, citron, cherry, etc. If you're using store-bought ricotta, make sure to drain it. The filling can be made and refrigerated for a few days in advance.

Fill the shells only right before you are ready to serve them to make sure the shells don't get soggy. You can fill a pastry bag with the filling and refrigerate it until you are ready to use it.

When you're ready to serve, fill the shells with a pastry bag.

Garnish the ends with your favorite toppings like pistachios, chocolate, and cherries or just leave it plain. Then give it a generous dusting of powdered sugar. Buon Appetito!
---
---